EndLess ERPM Performance J pipe v2, All 2004-2008 (incl Type-s)
ALWAYS IN STOCK AND READY TO SHIP OUT

EndLessRPM J pipe for all 2004-2008 TL's (Base and TYPE-S)
Test pipe option: attached to the J pipe to create the "long tubes version"
* The shiled tabs allow the stock heat shield to still remain attached if wanted *, the test pipe itself is the same design, just the non tabbed ones don't have the cnc bracket to hold the stock heat shield.
Features:
* Improved ground clearance over stock an aftermarket pipe

* Less restrictive air flow and replaces the factory restricted j-pipe
* Better exhaust scavenging

* Longer equal length primaries over stock and shorter equal lenth primaries over the long tube versions for better low end air flow/hp and torque
*Thick nickle platted flanges
*Uses lap welds which are one of the strongest type of welds known (may not look the prettiest, but being a pipe under the car that gets abuse, lap welds are the best choice for the job).
*Uses OEM style gaskets (crush style gaskets). Unlike flimsy aftermarket gaskets, crush style give one of the best seals. Crush gaskets uncluded in the J pipe kit.
Fitments:
* fits 2004-2008 base ( bolt right on )
* fits 2007-2008 base and type-s ( bolt right on )
* fits 2003-2007 honda accord v6 ( some manipulation with rv6 pcd may occur )
Having the equal length runners with a test pipe is identical to the newer versions. The reason we kept the third cat is because deleting a catalic converter is illegal and this J pipe is 100% carb/legal/will pass inspection. Also, retaining the third cat is a great idea, esp when the owner does the PCD.
With equal length runners and ground clearance that tucks higher than the subframe, power and ripping the J pipe off / bending the J pipe is no more of a worrie for TL owners with this EndLess J pipe.
These use crush gaskets, just like the stock does for a long/tight seal.
Warranty carries all manufacture defects. It does not cover scraping / bends / damage other than manufacture defects.
Mandrel bends, plug and play (no repacing sensors or anything of that sort), equal length runners for max air flow and on presale till they're released.
This dyno chart below was done by a customer, on his 07 TL. This is around a 28hp gain and his mods were This Endless J pipe, test pipe and EndLess catback with an injen Intake. He dynoed his long tubes (j pipes that are "one" and delete the j pipe/third cat together) and gained 3-4 more hp with his Endless j pipe and test pipe combo.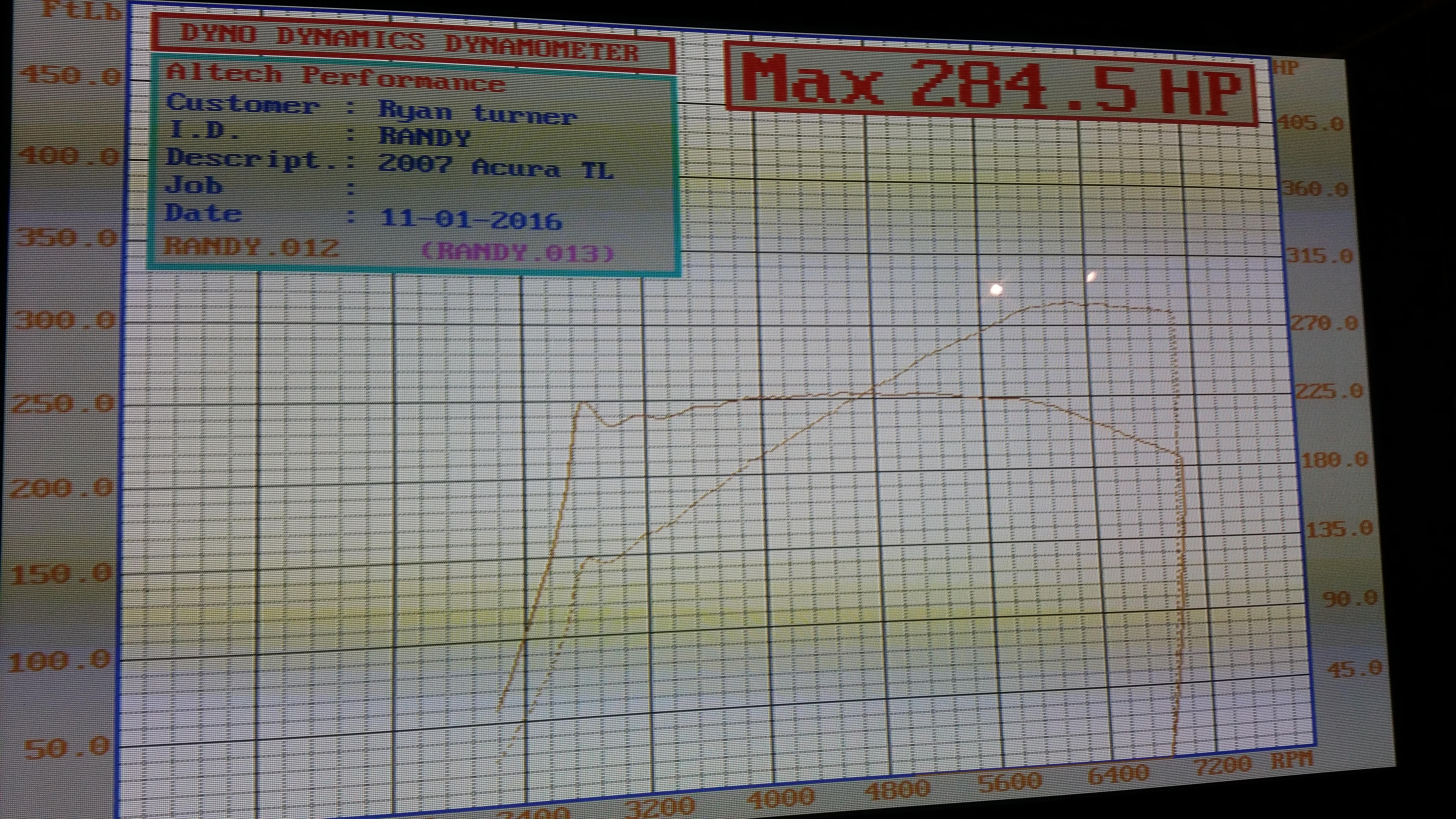 Reviews (20)
Great fit and easy to install.
j pipe was a very good fit. Simple and easy to install, and definitely an increase in power over a stock car. Well worth it
Basically, everything everybody says turned out to be true after the install. The install was straightforward on my car with almost 200k miles, no stuck bolts surprisingly. I do feel like my car is a tad bit quicker, but more importantly the sound was improved. I have an ATLP resonated catback with everything else stock and it droned at highway speeds. With the v2 j pipe and test pipe the drone was reduced. Also, my exhaust note has more character. Without the j pipe, the exhaust was just boringly deep with zero rasp. Now it has a nice grow to it!
Had a down pipe leak for a while from being too low, after the install i turned the car on and i noticed a difference. I know it sounds crazy to say, but it's not. Anyway yeah this thing made my tl respond better and faster even the shifting feels better. You might be thinking that im exaggerating but im not. All in all its a beneficial purchase
Easy installation notice a difference ASAP. My car reaches 100 mph faster than ever. Mind you my previous j pipe was crush due to clearance the v2 j pipe is very tucked and I believe could never get crush.
Install is simple if you don't have rusted bolts , instantly noticed a better throttle response in my opinion , can hear a difference past 3k rpm , definitely a good buy
Installed this j pipe with a buddy of mine, keep in mind you might need replacement bolts and/or bolt extractor because some of the bolts were really rusted and old. I've had this bad boy on for a few days now and I'm loving it! There isn't to much low end gains but definitely noticed the increase in power after 4500 rpms. Dropping from 3rd to 2nd gear going 40 is where I noticed the most improvement. Car picks up so much smoother and sounds a little deeper. I have this paired up with my AEM intake and car sounds a little more aggressive now with this new j pipe. Your getting exactly what your paying for, good quality j pipe with a good amount of gains but nothing to crazy.
There is such a big difference between the stock jpipe and this one. Man it looks so good! I would highly recommend straight piping the 3rd cat as well. I wouldn't say the jpipe eliminated my drone, but it did add more gurgle to the exhaust sound which is super sweet. The power is definitely there! Definitely glad I bought it.
Recently purchased and installed this endless rpm j-pipe. It was a quick and simple install. As soon as I took the car out for a drive, I noticed that the drone from my custom exhaust was gone. The car accelerates alot smoother, it really is a significant gain. The torque down low is noticeable and the exhaust crackles as well which is the sound I was looking for. Cold air intake along with this j-pipe makes an exellent pair. All i need now is the j37 intake manifold. I recomend this to anyone looking to revive the performance of their TL
Super easy install, everything bolted right up like it should. Better air flow, throttle response and etc.. with no rasp what so ever. Overall great quality product.
Nicely finished j pipe bolt on action right on well made product I would recommend this too anyone looking for an upgrade exhaust system too add!!!!
Super easy install, literally bolted right up. My set up now is Injen CAI - Endless J-pipe - midpipe - resonator - straight out the back. Idiling isn't much louder and neither is cruising but as soon as you give it some gas she opens right up. No rasp, forsure more throaty than anything. Throttle response is way better, for the price I would recommend. Test pipe next, yeeeeee!
1. the quality of these j-pipes are amazing my mechanic is also a certified welder and he fell in love with the design of these j-pipe everything about them. P.S. that man is not easily impressed LOL 2.My car sounds amazing the performance gains are very noticeable from 4500 RPM all the way up to redline no more gaps between shifts you feel a big difference the airflow is way more smoother and the backfires are to die for every time I let go of the gas . 3.i've heard people saying they don't feel no difference well that's no the case here I guess they just don't really drive there cars. ENDLESSRPM WAS THE BEST DECSION I MADE OVER ANY OTHER NAME BRAND
Good quality build at a great price. Excellent customer service and speedy shipping. Fitment was a breeze and delivers a very satisfying finished product. Proud to have their product on my car and will definitely be a repeat customer.
Wish I did this mod sooner!!!!
All I can say is wow! I don't want to sell the car anymore I bought the j pipe and test pipe and it brought the car back to life!!! The response the power the torque its amazing!! And I get better gas mileage on the highway now, it even has reduced my drone from my exhaust. Fitment was perfect and it tucked right up in the factory location. As soon as I paid for my item it was shipped within minutes!!! There is no rasp just power!!!
Car feels so much smoother while accelerating.
This add on to my catback was a smart choice. Its quicker and the exhaust just sounds smoother which is great. This a must get for people with stock j-pipes.
05 wdp auto tl, I already had a catback, and Injen cold air intake. Figured I'd add this to the underbelly of my car. Took a while to install due to a lot of ceased bolts, but once it was up and on it, I noticed a lot better pull throughout all gears. I really can't wait to add the test pipe Bruce offers. Great service and shipment was on point. Fits great with splash guard I did however trim a small piece off to avoid melting, but that was literally just in case. Overall I recommend to any TL enthusiasts.
Just installed with test pipe on a type s. Mid to top range feels amazing. The throatier sound of exhaust is an added bonus.
Extremely Fast Shipping ! Received My CATBACK System Within 3-4 Days . Amazing Quality & Huge Upgrade In Appearance As Well As Performance . Highly Recommended . I Installed This Kit On My 2008 Acura TL (Base) .
Just installed today with an Endless Cat Back on an 08 TL-S. If you are doing this yourself or having someone do this make sure to get replacement exhaust bolts as most of mine were locked up and needed to be cut off. Also may need a gasket for catback. Otherwise the sound is great. Not too loud, little to no rasp if you keep your CAT's like I did. Haven't driven enough to notice any gains just yet as I just had it put on a few minutes ago.